Union Minister for Labor and Employment Shri Bhupender Yadav today launched e-passbook for the benefit and convenience of the EPFO members enabling them to view more details of their accounts in graphical representations
Ministry of Labour & Employment

Shri Bhupender Yadav launches e-passbook for EPFO members, inaugurates crèche facility in 63 regional offices of EPFO

Posted On: 28 MAR 2023

Union Minister for Labor and Employment Shri Bhupender Yadav today launched e-passbook for the benefit and convenience of the EPFO members enabling them to view more details of their accounts in graphical representations. Shri Yadav inaugurated crèche facility in 63 regional offices of EPFO where 100 or more employees are working and laid foundation Stone of the office building of Regional Office Prayagraj, Uttar Pradesh. The Office building of Regional Office Keonjhar, Odisha was also virtually inaugurated by the Union Minister.
Earlier the 233rd meeting of Central Board of Trustees, EPF was held during which the following decisions were taken:
The Board approved the Revised Estimates for the year 2022-23 and Budget Estimates for the year 2023-24 for schemes administered by EPFO.
The Board approved the five year perspective plan for enhancement of physical infrastructure of EPFO which includes purchase of land, building construction and special repairs, involving cost of Rs.2200 crores.
The Board was apprised on the actions taken towards compliance of the Supreme Court judgment regarding Pension on higher wages and measures taken to facilitate filing of options etc
The Board approved the proposal for conversion of status of EPFO from Associate Member to Affiliate Member in International Social Security Association (ISSA) that was in line with the EPFO@2047 vision document and would enable EPFO to play a bigger role in the international social security platform of ISSA.
CBT approved the umbrella MoU signed between EPFO and NTA for conduct of various examinations. The first action has been initiated as per the MoU by notification of Direct Recruitment Examination in the cadres of Social Security Assistant and Stenographer.
The Board approved constitution of Committee for recommending amendments in the Employees' Provident Fund (Officers and Employees Conditions of Service) regulations, 2008.
The Board approved the proposal for extension of AMC of Portfolio Managers.
The Board approved the proposal for investing the proceeds of ETF Investments in any of the permissible category of investments subject to the limit prescribed for that category.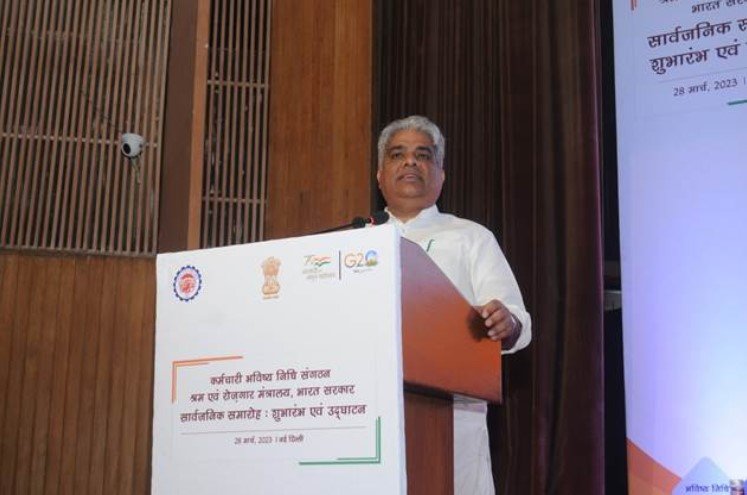 A presentation was made before the CBT on EPFO's initiative Nidhi Aapke Nikat 2.0. This District Outreach Programme is being conducted throughout the country on 27th of every month. The members of the CBT had live interaction with the district camps at Vadodara (Gujarat) and Baksa (Assam). Shri Yadav appreciated and congratulated everyone for the successful conduct of Nidhi Aapke Nikat 2.0.
Source: PIB