DA for Bank Employees from August 2018 – Update on 01/08/2018
All India Consumer Price Index Numbers for Industrial Workers – CPI(IW) for June 2018 increased by two points and pegged at 291, based on the DA Calculation formula the DA for bank employees as on June 2018 is 54.1%.
As per the calculation, 1.2% increase from August 2018 is confirmed. DA for Bank Employees is increased by 12 slabs from August 2018 to October 2018.
DA slabs for the next quarter, August 2018 to October 2018 will be 541 i.e., 54.10%.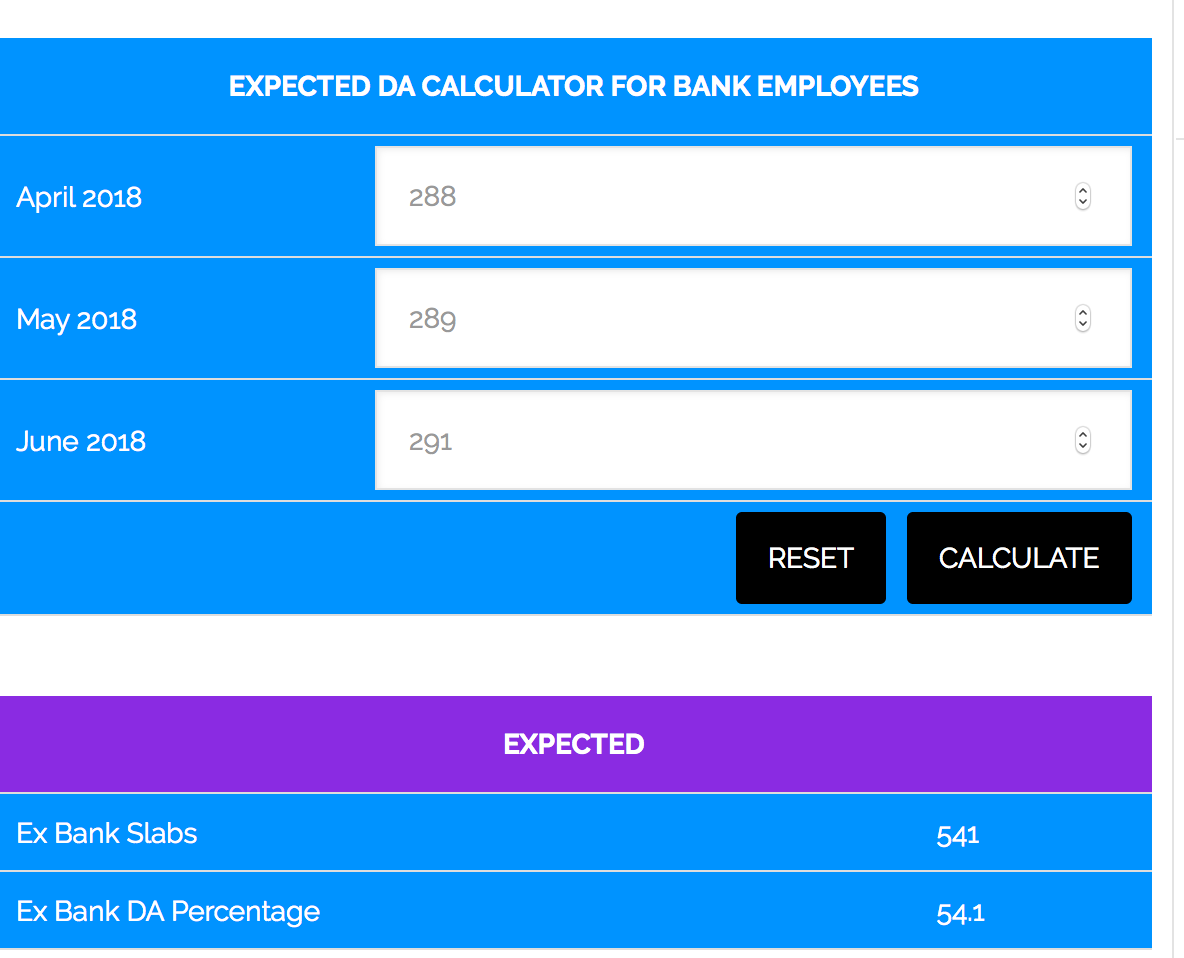 However, we have to wait for the official confirmation.
| Payable for the Year | Payable for the months | Average CPI | No. of slabs | % of pay |
| --- | --- | --- | --- | --- |
| 2018 | August September October |   | 541 | 54.1 |
| 2018  | May June July | 6559 | 529 | 52.9 |
| 2018  | Feb March April | 6551 | 527 | 52.7  |
| 2017  | November, December 2017 & January 2018 | 6505 | 516 | 51.6  |
| 2017  | August September October | 6353.21 | 478 | 47.8  |
| 2017  | May June July | 6261.91 | 456 | 45.6  |
| 2017  | February March April | 6315 | 469 | 46.9  |
| 2016-17  | Nov Dec Jan | 6353 | 478 | 47.8  |
| 2016  | Aug Sep Oct | 6261.9 | 455 | 45.5  |
| 2016  | May June July | 6117 | 420 | 42  |
| 2016  | Feb Mar Apr | 6147 | 426 | 42.6  |
| 2015-16  | Nov Dec Jan | 6033 | 398 | 39.8  |
| 2015  | Aug Sep Oct | 5896 | 364 | 36.4  |
| 2015  | May Jun Jul | 5790.17 | 738 | 110.7  |
| 2015  | Feb Mar Apr | 5774.95 | 734 | 110.1  |
| 2014-15  | Nov Dec Jan | 5767 | 732 | 109.8  |
| 2014  | Aug Sept Oct | 5569.52 | 683 | 102.45  |
| 2014  | May Jun Jul | 5432.56 | 650 | 97.5  |
| 2014  | Feb Mar Apr | 5501.04 | 666 | 99.9  |
| 2013-14  | Nov Dec Jan | 5402.13 | 641 | 96.15  |
| 2013  | Aug Sept Oct | 5211.91 | 593 | 88.95  |
| 2013  | May Jun Jul | 5082.57 | 561 | 84.15  |
| 2013  | Feb Mar Apr | 4976.05 | 535 | 80.25  |
| 2012-13  | Nov Dec Jan | 4877 | 510 | 76.5  |
| 2012  | Aug Sept Oct | 4709 | 468 | 70.2  |
| 2012  | May June Jul | 4549 | 428 | 64.2  |
| 2012  | Feb Mar Apr | 4519 | 420 | 63  |